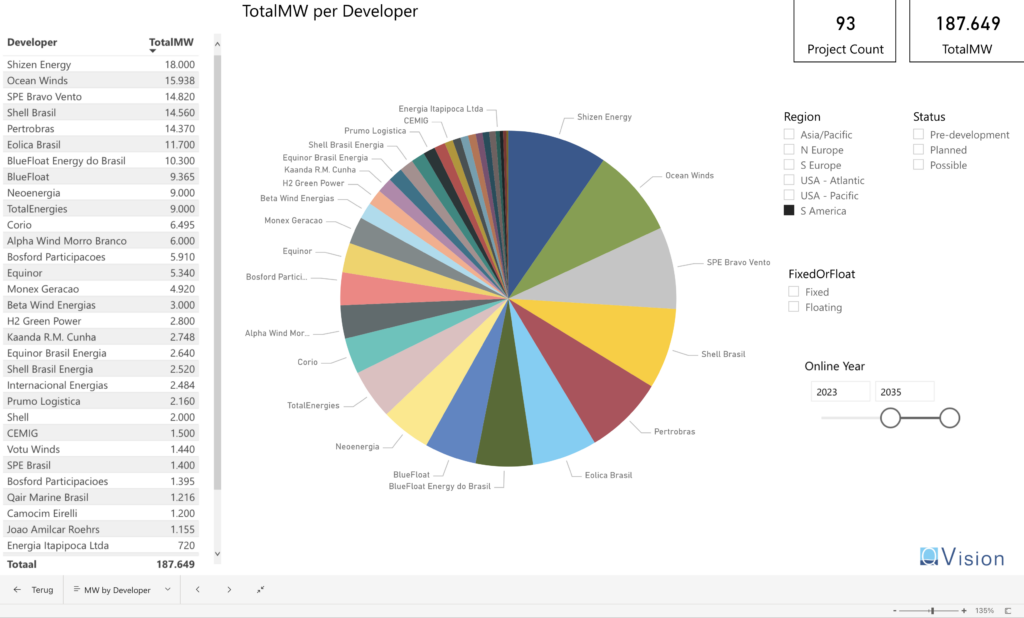 Brazilian environmental agency IBAMA announced over a year ago it was receiving a significant number of applications targeting offshore wind development. The Government had issued a decree in January 2022 to enable the implementation of offshore studies and identification of suitable areas and by year-end the volume of applications had reached a stunning 176GW in capacity now under review by IBAMA.
There are two key objectives for Brazil in this, the supply of power to population-dense areas and, even more so to create a parallel trade market to oil exports through large scale production of hydrogen.
Apart from a large variety of Brazilian developers amongst the more than 70 applicants, we find large European O&G companies such as TotalEnergies, Shell, Equinor and major offshore wind developers such as Ocean Winds and BlueFloat, each applying for capacities ranging between 10 and 21GW. And for good reason. The mostly close to shore, shallow water projects could well be showing favorable LCoEs in comparison to other markets.
The interest shown by Brazilian oil company Petrobras and its recently signing a cooperation agreement with Equinor, a successful Floating Wind Developer, points to a possible third key objective: the electrification of the significant number of O&G floating production units in Brazilian waters thereby contributing to reaching carbon neutral goals.
While Brazil is creating new legislation and permitting processes for offshore wind, it would be an interesting thought to think all that is already in place for O&G leases. Also, Brazil has a well-developed supply chain serving the offshore industry, opening the possibility that off-grid floating electrification might possibly even overtake the timelines for developing fixed offshore wind in Brazil.
In any event, our initial analysis has identified some 8 GW of possible Floating Wind projects as part of the currently known applications and that does not even include the O&G electrification potential in deep waters. Add to that the fast growing 2 GW in floating wind projects in planning in Colombia and early stage H2Offshore planning in Uruguay that will include floating technology as well, the South America continent is quickly becoming a major market for offshore wind, be it bottom-fixed or floating.
Illustration: The potential Offshore Wind market in Brazil has attracted the world's major players. The sheer volume of project capacities could instantly make Brazil the biggest offshore wind market in the world.