Market Intelligence
Now Available for Free Download
Q FWE Projects of the World 2020/2021 Map

We are pleased to announce the release of the new 2020/2021 Quest Floating Wind Energy Projects of the World Map. This unique map offers the user perspective on both the scale and scope of the Floating Wind market. Click the map image to download a free PDF of the new map!
---
September's Offshore Wind Turbine Index Sees an Increase of 1,404 Turbines Since August

The Quest Offshore Wind Turbine Index (QOWTI), which tracks the Total Addressable Market for offshore wind*, shows 294 global projects for September a gain of twelve projects, comprising 16,681 individual turbine units representing a CapEx of $473.7 billion. Although Asia Pacific leads Europe in total project count, Europe leads all regions in total CapEx and MW density at $206.9 billion and 67.7 GW, respectively, compared to…
---
Offshore Wind Continues Strong Growth, Bolstered by New Floating Projects

Environmental, Social and Governance (ESG) are drivers influencing our energy transition. In line with that, 2020 has been the year of aggressive commitments to Net Zero carbon emissions by 2050 for a large swath of companies. This group has been led by Europe's largest integrated oil companies—Shell, BP, Total and Equinor. This group remains at the forefront of their peers, and they are transparent about transitioning to cleaner energy in the future.
Shell aims to make power a significant part of its business and emphasized that offshore wind is critical to that mission, with a current opportunity pipeline of 5 GW and expanding. Equinor has made no secret of its high ambitions and restated a goal of becoming a global major within offshore wind. The firm has equity ambitions of 12 to 16 GW by…
---
Webinar: Oil and Gas Majors in Floating Wind – Opportunities Ahead
2050 Net Zero Climate Ambitions and Renewables Push
The Clean Energy Pursuit of IOCs
Industrialization – Next Steps to Scale, Deployment and Lower Costs
Key Markets and Enablers to Government Policies
Local Content and Viable Infrastructure Requirements
Differentiation Across Markets
What is Floating Wind's Ultimate Potential?
View & Listen to the Full Webinar >>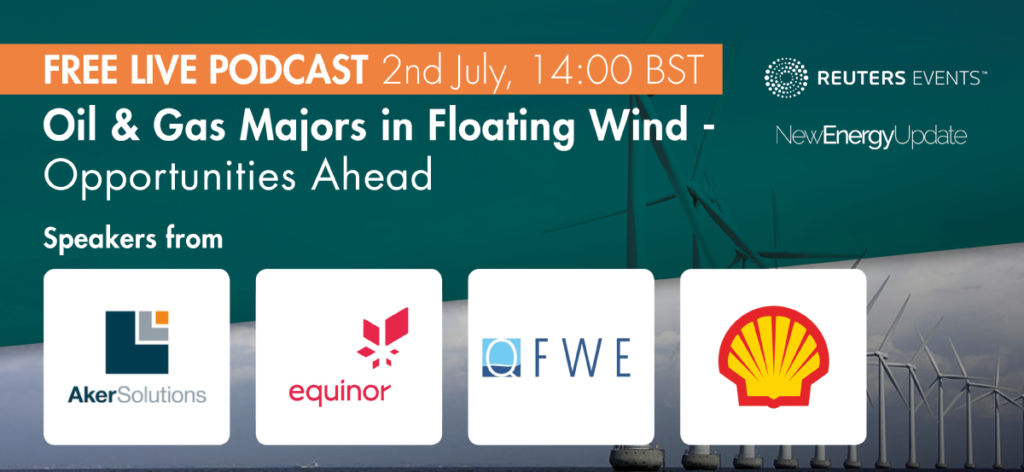 ---
Announcing Floating Wind Solutions 2021
"Leveraging the Established Global Offshore Supply Chain"
SAVE THE DATE!
February 25 – 26, 2021
Houston, Texas
Floating Wind Solutions Conference & Exhibition 2021 will showcase the many capabilities of the established Global Offshore Supply Chain and create a platform for bridging Supply and Demand while facilitating development of this industry. Floating Wind Solutions' mission is to utilize this platform to bring together the many critical players within the Wind and Offshore industries enabling accelerated adoption of Floating Wind Energy globally. This premier event's primary goal is to accelerate the Energy Transition, by focusing on the industrialization and commercialization of Floating Wind Energy. A world class Advisory Board is being assembled and will insure that the program will be extremely focused on the principles of this mission.
---