Q FWE Projects Map
A complete overview of all floating wind projects out to 2030. This package includes a premium, fully functional online map, plus Project & Concept Data Sheets. Access the world's most comprehensive floating wind data in an affordable, entry-level package. Subscribe today for 24/7 access at $495/year.
Q FWE Projects Map Demo Video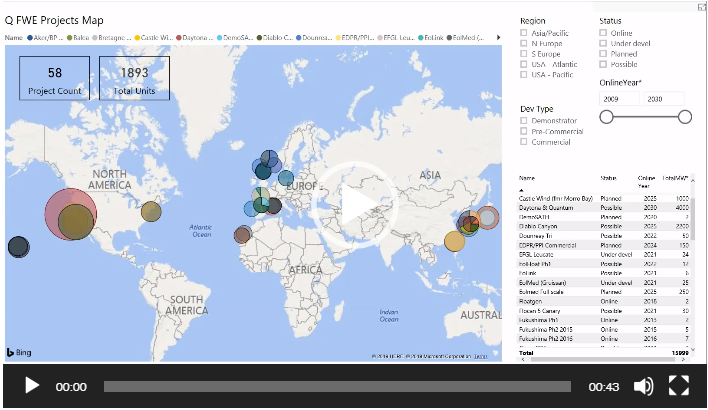 The Q FWE Projects Map also includes the Project and Concept data sheets. These are the latest output from the Quest FWE extensive database of projects & floater designs.
For each project, the database contains 250 data points, continuously updated as the project develops, utilizing primary (first hand) sources. Factual data is obtained from public sources and in the majority of the cases verified by the projects' developers and floater designers.

Concept of the Month

The Saitec SATH Floater
The first generation floating foundations have been proven in demonstrators. They represent the full spectrum of known floater concepts such as the barge, semisubmersible and the spar. The TLP will be added to that range shortly and it will no doubt be the logical choice for the first commercial projects.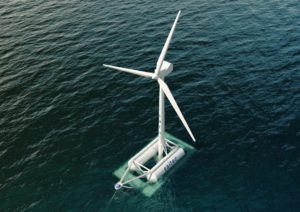 The next generation of floating concepts is ready for the demonstrator phase. They distinguish themselves in their design, having been focussed on a lower weight per MW and their modular configuration is more suitable for series production with a possibility of separate, de-centralised manufacturing of components.
One example of this generation is the Spanish Saitec SATH (Swinging Around Twin Hull) design. Saitec has tested their design that is composed of two pre-stressed concrete floaters held in a steel frame with a single point mooring. A full size demonstrator is planned for Q2 2020 in the BEbib test area some 2 kilometers north of Bilbao, Spain. The turbine make has not yet been revealed but will be a 2MW capacity and the unit will remain in operation for 2 years. The design is also being reviewed by NEDO for development offshore Japan.
---
Q Vision CapEx Module Identifies a Total Addressable Market of 50+ Billion USD for Floating Wind Energy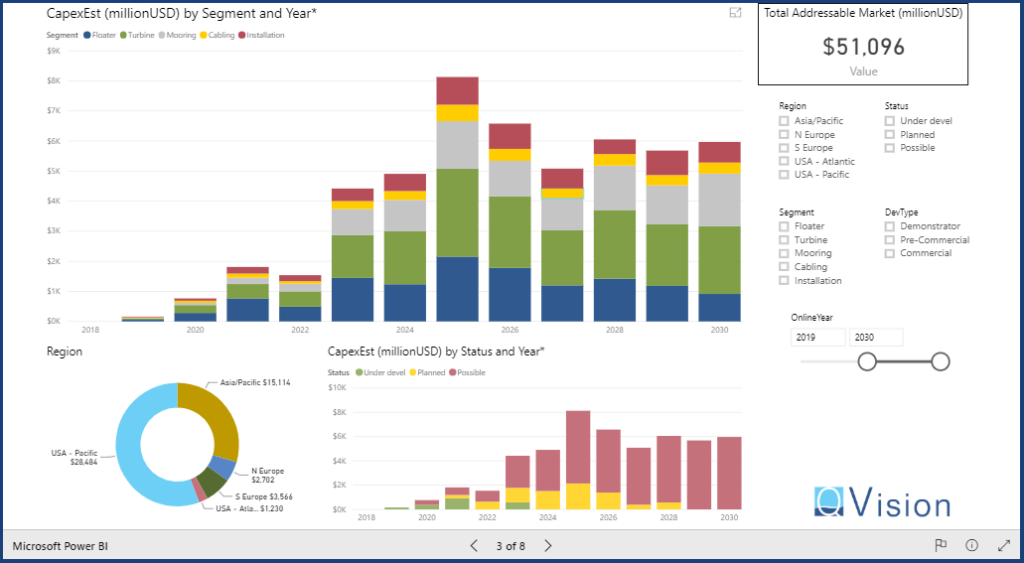 Future investment into the Floating Wind market is considerably higher than many realize. Quest FWE has now created an analytical tool which allows the user to investigate numerous market facets of Floating Wind CAPEX. The Q Vision CAPEX module offers 8 distinct lenses from which to navigate this continually updated data system. *For a limited time, this Q Vision Capex module is available for your review at https://questfwe.com/pbi-capexdemo/

---
Project of the Month

Kincardine
The Kincardine project offshore Scotland has seen some remarkable modifications since its original application in 2016. Project schedule, turbine capacity, and floater all saw significant changes during the project development. Kincardine switches to 9.5 MW turbines
The 1st floater came online this month with a 2MW turbine carried by WindFloat 1 in order to make the project's ROC (UK Renewables Obligation Certificate) deadline.
The 6 floaters with 8.4 MW turbines were originally planned to be installed in two additional tranches, of which the first three were to be installed in 2019. However, operating company KOWL announced last month a switch to using the MHI Vestas 164-9.5 MW turbine. The higher capacity turbine selection reduces the number of required floaters by one. As the turbines will not be available until late 2019, all units will be installed early in 2020 as Tranche 2.
The revised project raises the expected CAPEX to GBP 350M and OPEX to GBP 150M. Note these costs put the project toward the more expensive end of the Cost Per MW spectrum as shown in the Q Vision market analysis lens below. (See more at https://questfwe.com/q-vision/ )
Q Vision Cost Per MW
---
Q FWE Introduces
Project Economics Calculators
Quest FWE introduces its Project Economics Calculators designed to verify assumptions, make comparisons and/or simply check variable inputs.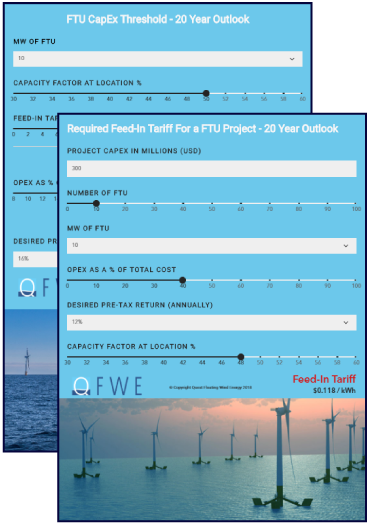 The Q FWE Project CapEx Calculator can be used to determine a CapEx Threshold for your FTU-Floating Turbine Unit Project, based on a 20 year lifespan, allowing user specified inputs for: Turbine Size (MW), Capacity Factor at Location, Electricity Feed-In Tariff, level of annual OpEx, and targeted annualized Pre-tax Rate of Return.
The Q FWE Project FiT Calculator can be used to determine the required FiT (Feed-In Tariff) for your FTU-Floating Turbine Unit Project, based on a 20 year lifespan, allowing user specified inputs for: CapEx, Number of FTU's, Turbine Size (MW), level of OpEx, targeted annualized Pre-tax Rate of Return, and Capacity Factor at Location.
These can be accessed on our Q FWEconomics Page
---