Market Intelligence
Webinar: Oil and Gas Majors in Floating Wind – Opportunities Ahead
2050 Net Zero Climate Ambitions and Renewables Push
The Clean Energy Pursuit of IOCs
Industrialization – Next Steps to Scale, Deployment and Lower Costs
Key Markets and Enablers to Government Policies
Local Content and Viable Infrastructure Requirements
Differentiation Across Markets
What is Floating Wind's Ultimate Potential?
View & Listen to the Full Webinar >>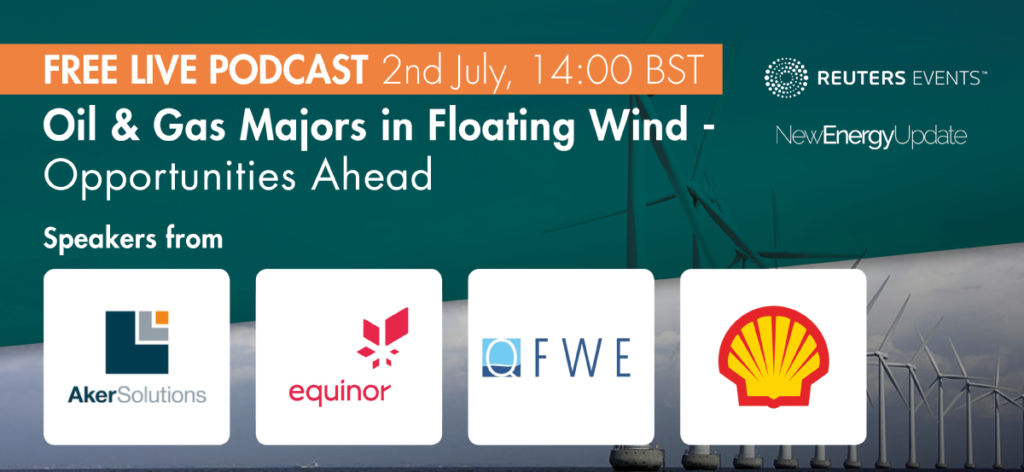 ---
June's Offshore Wind Turbine Index Sees an Increase of 291 Turbines Since May

The Quest Offshore Wind Turbine Index (QOWTI), which tracks the Total Addressable Market for offshore wind*, shows 264 global projects for June a gain of seven projects, comprising 14,641 individual turbine units representing a CapEx of $408 billion. This month sees 61,871 MW in Europe (a net gain of 2,533 MW) followed by 41,549 MW in Asia/Pacific (a modest gain of 17 MW). The Unites States sees 26,782 MW (a net gain of 1,995 MW) representing Equinor's 133-unit Beacon Wind project off the coast of Massachusetts that will deliver renewable power to more than…
---
Announcing Floating Wind Solutions 2021

"Leveraging the Established Global Offshore Supply Chain"
SAVE THE DATE!
January 19-20, 2021
Houston, Texas
Floating Wind Solutions Conference & Exhibition 2021 will showcase the many capabilities of the established Global Offshore Supply Chain and create a platform for bridging Supply and Demand while facilitating development of this industry. Floating Wind Solutions' mission is to utilize this platform to bring together the many critical players within the Wind and Offshore industries enabling accelerated adoption of Floating Wind Energy globally. This premier event's primary goal is to accelerate the Energy Transition, by focusing on the industrialization and commercialization of Floating Wind Energy. A world class Advisory Board is being assembled and will insure that the program will be extremely focused on the principles of this mission.
---