Offshore Turbine Locator

Quest is currently tracking 575+ future projects encompassing 33,000+ individual turbines (of these 215+ are floating projects with 8000+ turbines). Included are projects currently under development, planned, as well as possible.
Q Vision is our proprietary Business Analytics' tool delivering real-time data and analysis giving you a competitive advantage to win Fixed and Floating Offshore Wind Energy projects. This Power BI module identifies the known universe of future projects, detailing the Total Number of Turbine units in each project. These analytical tools give a quick overview of the potential future market for turbines, floaters, cables, installation and O&M activities.
The Offshore Turbine Locator tracks projects by total MW bubble size on a world map, cumulative total MW to 2033 and beyond, and cumulative Total MW by country. Each page has basic filters key fields and All Filters page allows for more detailed queries. Includes backing data in MS Excel.
For information on Quest's Q Vision data products, please click here. For more information on all Quest products and services contact Andrew Chadderdon, +1 (281) 725-7664, or Andrew.Chadderdon@questfwe.com
Now with Search Recent Project Updates functionality >>
View full Data Coverage Fields >>
Subscriber Tools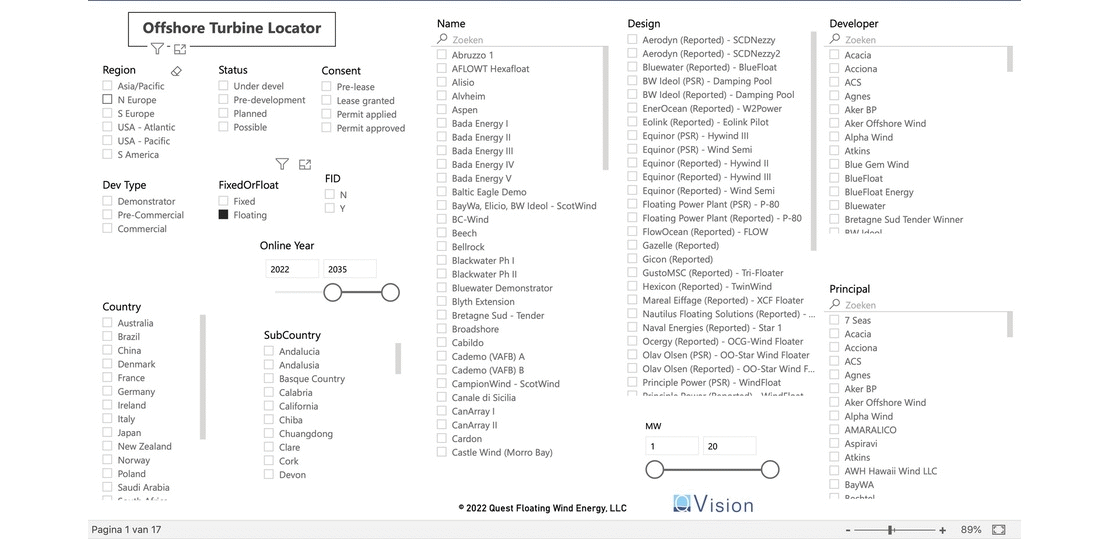 Follow us on LinkedIn to track the latest changes, additions and features