Offshore Turbine Locator
Easy access to the world's most accurate data on the Offshore Wind market. Quest is currently tracking 400+ future projects encompassing 20,000+ individual turbines (of these 115+ are floating projects with 3000+ turbines). Included are projects currently under development, planned, as well as possible.
Q Vision is our proprietary Business Analytics' tool delivering real-time data and analysis giving you a competitive advantage to win Fixed and Floating Offshore Wind Energy projects. This Power BI module identifies the known universe of Online, Under Development, Planned and Possible Bottom-Fixed and Floating Offshore Wind Projects, detailing the Total Number of Turbine units in each project. These analytical tools are very useful for getting a quick overview of the potential future market for turbines, floaters, cables, installation and O&M activities.

The Offshore Turbine Locator tracks both Bottom-Fixed and Floating Offshore Wind Projects by total MW bubble size on a world map, cumulative total MW to 2033 and beyond, and cumulative Total MW by country. Each page has filters for Status, Region, Fixed or Floating, Development Type and Startup Year range. Includes backing data in tabular format on Page 9 and an MS Excel download. Call Andrew Chadderdon for multi-user or enterprise-wide licensing options at +1 (281) 725-7664 or email Andrew.Chadderdon@questfwe.com
What's Included With My Annual Subscription
Offshore Turbine Locator Excel Database
Subscribers have 24/7 access to the complete universe of projects in MS Excel. This unrestricted Excel spreadsheet allows subscribers to access data, build tables, as well as export into any system supporting Excel.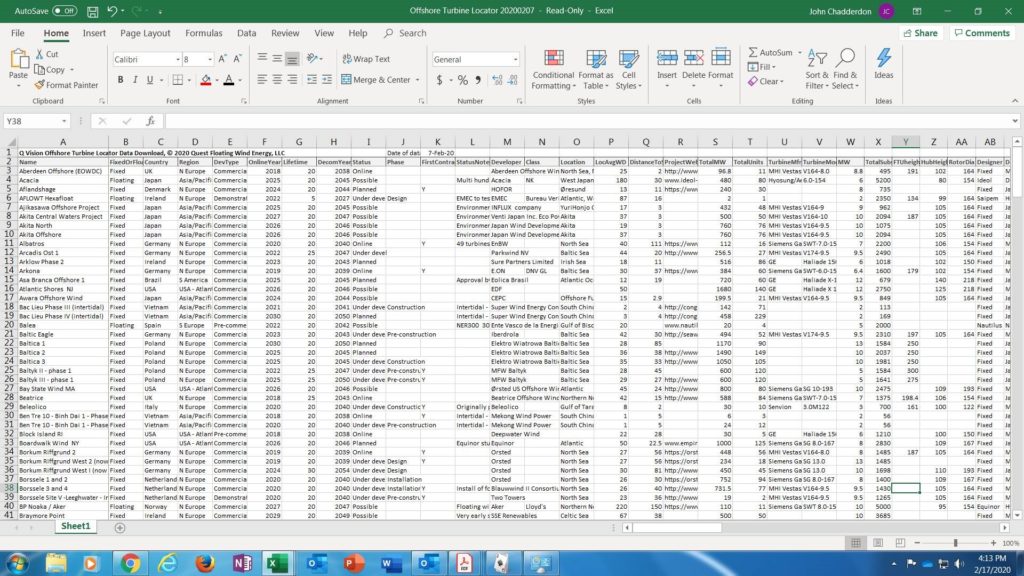 Offshore Turbine Locator Power BI Modules:
Subscribers may wish to utilize our custom created Microsoft PowerBi visualization modules. With a few clicks of options users can create maps, charts and tables that analyze future installation year, MW capacity, developers, plus much more. Click the demo below to see how PowerBI puts the power of data visualization in your hands.
Offshore Turbine Locator Total Units Map
Designer – Developer
Total Turbine Units Installed by Year
Total Units by Project Name
Offshore Wind Total MW Map
Cumulative Offshore Wind Total MW by Status
Cumulative Offshore Wind Total MW by Country
Offshore Wind Total MW by Region
Data Table