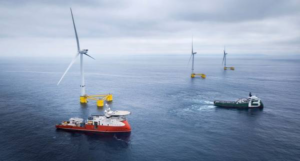 The Ireland-based floating wind developer Simply Blue Group and Spanish companies Proes Consultores and FF New Energy Ventures have formed a joint venture named IberBlue Wind with plans to develop 2 GW of floating offshore wind capacity in Spain and Portugal.
According to the new project development company, IberBlue Wind has the capacity to take on all phases of floating offshore wind farm development with the extensive experience the three partners bring to the joint venture.
The launch of IberBlue Wind follows the Memorandum of Understanding the three companies signed this Spring.
Regarding Portugal, Adrián de Andrés considers that its legislation "is ready to provide exclusive maritime space for wind energy, although a regulation is needed to establish the procedure for the auctioning of these development rights".
In Portugal, the government has committed to producing 8 GW of ocean renewable energy in the coming years, almost double the 5.6 GW of current onshore wind power generation capacity, the IberBlue Wind partners highlighted.