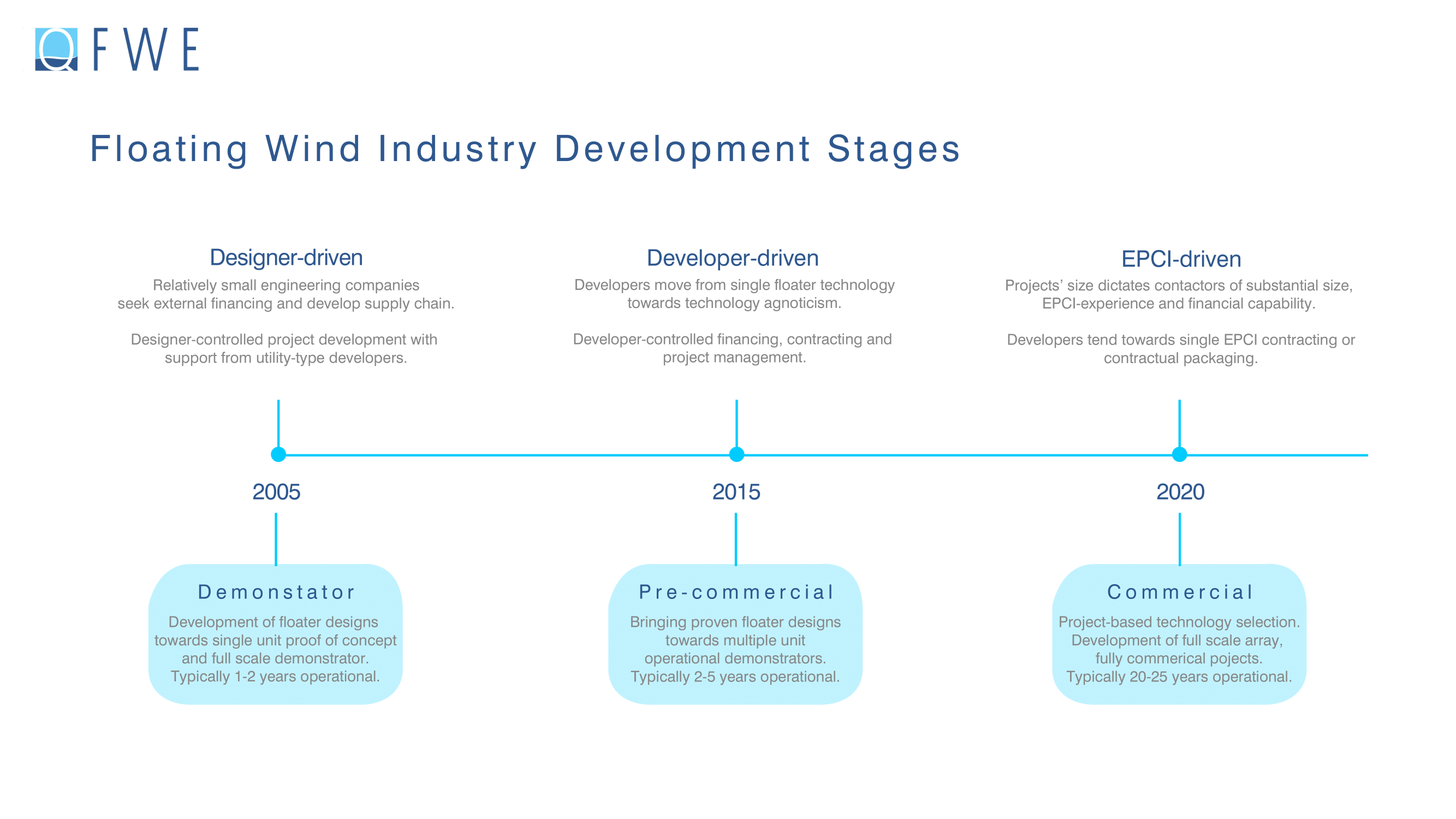 With major lease rounds ongoing and planned around the globe, significant opportunities lie ahead for the experienced Offshore Supply Chain which become more concrete now that the floating wind industry is looking at contracting strategies for their planned full-scale developments.
Four years ago, we predicted that the floater Designer-driven industry would rapidly evolve into a Developer-driven approach, where the developer would initiate projects, rather than the technology designer. Indeed, we witnessed Developers who initially were supporting a single floater design ultimately became technology agnostic; a view led from their global portfolio of projects with differing characteristics. This nascent industry's heightened awareness that there is no 'one size fits all' approach.
Having predicted that project sizes would increase to reach full-commercial-scale during the second half of this decade, we (nor anyone else) could have anticipated the rapid increase in turbine capacities and the substantial effect it would have on our industry. The 8MW 'standard' turbine grew in a matter of years to over 10MW and now we're looking at 15MW and realistically even project turbines' technology of over 20MW per unit.
Notably, 'per unit' is where the profound change is. Our industry is visualizing a large series of floaters leaving the fabrication yards, but larger turbine capacities will soon halve the number of units originally required. At the same time, these units will get larger and have more complicated mooring systems, especially in deeper water leading to even more complexity. While costs are coming down, floating projects are increasingly becoming much more capital intensive.
Greater overall complexity is leading some Developers to vastly limit their supply chain focus beyond the EPCI contractor save a select focus on certain OEM suppliers. Meanwhile, we have seen some former EPC companies transform into the Developer role, either in split off- or in new companies established for that purpose.
We anticipate leading EPC(I) contractors with solid balance sheets increasingly involved on 'running' considerable sized projects on the Developers' behalf, highly experienced actors who are adept at managing truly global supply chains. Except for the few Developers who will prefer packaging select contracts, this industry is rapidly evolving towards an EPCI-led contracting philosophy.
The Q Vision module Supply Chain Opportunities (CSO) draws a time-path towards these opportunities and identifies contracts still open for a.o. engineering, fabrication, mooring and installation.
Erik Rijkers