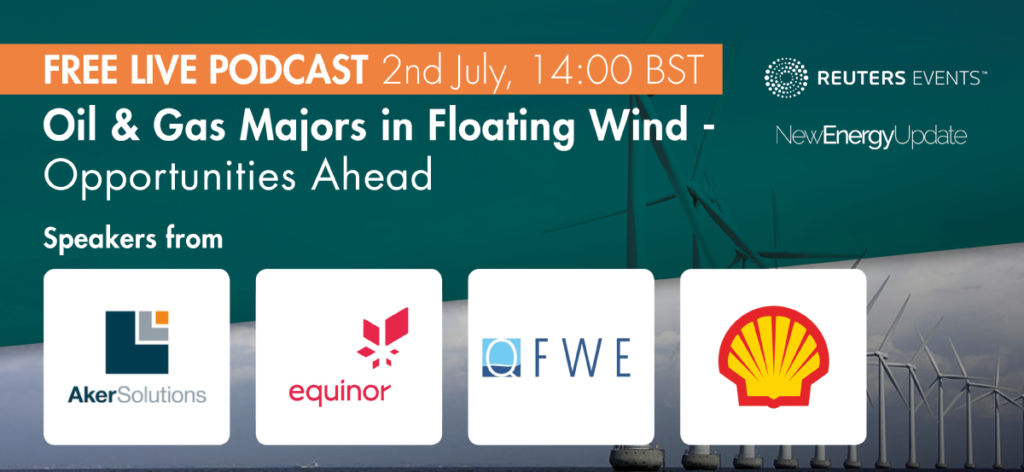 "If we try the approach we use in Bottom Fixed and think we can apply that to Floating Wind, we're really missing the trick".
A Reuters / Quest FWE organized virtual event last week drew over 1,800 registered participants. The number shows the future is Floating, but also a wide realization that the future is much closer than most believe. The online event hosted and moderated by Quest Floating Wind Energy's President Paul Hillegeist, produced a number of eye openers that we would like to share. The full seminar is online and available for replay.
Paul Hillegeist started the event with a short presentation on Opportunities Ahead in Floating Wind, a rapidly accelerating market offering huge opportunities for growth. Quest FWE projects that over $33 billion in Floating wind contract awards will occur over the next five years. Paul welcomed a distinguished panel of experts to the moderated discussion including Arne Eik of Equinor, James Cotter of Shell and Knut Vassbotn of Aker Solutions. Each shared their company's vision on how integrated energy companies see their role in the energy transition and the focal point of discussion was centered around global opportunities in Floating wind, industrialization and the rapid cost reductions being made. Each panelist shared relevant perspective on industry assumptions and importantly dispelled some of the existing myths around Floating wind.

Updated Net-Zero policy goals were defined, and consensus expressed on 2050 as the target for emission neutrality, if not sooner. All agreed that energy transition ambitions are a global effort requiring cooperation across many companies and governments seeking solutions from all relevant areas. As an industry, we need to transfer challenges into opportunities and all work together to deliver low carbon energy at 'pace and scale' for a compelling future.
Shell aims to make power a significant part of their business and emphasized that offshore wind is critical to that mission with a current opportunity pipeline of 5 GW and expanding. Equinor has made no secret of their high ambitions and restated their goal of becoming a global major within offshore wind with equity ambitions of 12 to 16 GW by 2035, as well as emphasizing their determination to maintain a world leadership position in Floating offshore wind.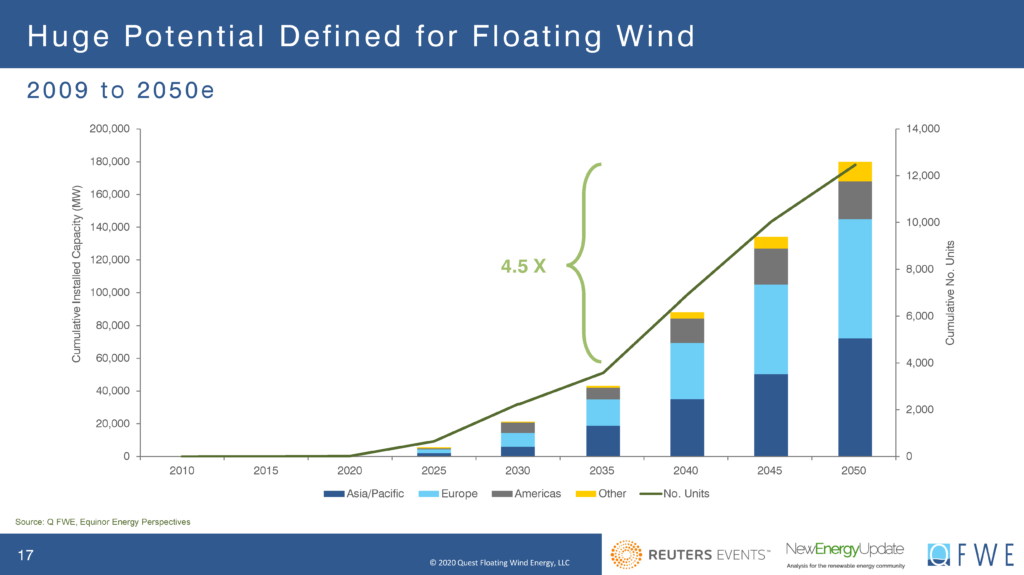 Industrialization, Next Steps to Scale
Floating wind is a global opportunity ramping-up for commercialization across six to ten distinct markets. A major focus and high priority currently are cost reductions of the 'system'. One panelist stated that "…It is not just the cheapest MWh solution, but MWh delivered at the right place and right time". All agreed on the enormous potential for Floating wind and Equinor was optimistic that floating opportunities might even outpace Bottom-fixed over time. The projects are there and our industry is ready for scale. Aker Solutions sees a direct opportunity to apply their extensive deepwater experience in floaters, dynamic cables and large-scale projects. They have become an active developer in several projects and see their experience and strong technology portfolio as a differentiator compared to other developers.
All panelists agreed that their oil and gas background is well suited to applying experience in new areas and different settings. There was strong consensus that technology will play a key role into the future, and a realization that successful innovation does not have to be high risk, but insinuates the need for using a 'whole systems' approach. "If we try the approach we used in bottom-fixed and think we can apply that to Floating wind, we're really missing the trick". One panelist emphasized that "…The trick is how we create value and how we deliver value; we can do this in different supply chains by using existing supply chains that work in different industries and bringing it all together." It is not strictly about reduction in CapEx or OpEx, but more about reducing costs in the whole system, offshore and onshore.
Presently, the industry has a focus on LCoE as a feasibility benchmark, but one which actually varies considerably between market segments and countries. While bottom-Fixed has taken 20 years to achieve a Levelized Cost of Energy (LCoE) of €50/MWh, these cost reductions would not have been possible without support from governments; and now new markets are opening without economic incentives. Floating wind cost reductions are being achieved at a rapid pace. As an example, Equinor reduced 40% of the cost between Hywind Scotland and Hywind Tampen and intend to reduce costs another 30% or more into their next 250 to 500 MW project.
What do we mean by commercialization? Scale? Contrary to general assumptions that floating must equate to large-scale, this is certainly not always the case. It was acknowledged that the business case for Bottom-fixed is driven to go 'big' with its own set of restrictions, but commercialization in floating does not always have to be. Panelists agreed that commercially viable could also be smaller projects that deliver directly into local demand. As an example, it could be a 10-to-15-unit floating project targeted to the power needs of a specific area that is cost competitive with bottom-fixed. Right now, in fact, we see select floating markets that are economically feasible at around €50/MWh.
Technology
One panelist suggested that eventually a limited number of floaters designs will be applied across the industry; "…Whether that is 5 or 10 is too early to say…". Equinor has the Hywind SPAR design, but also will evaluate other 'fit-for-purpose' technologies. Aker started out with their own floater technology, but switched to linking-up with Principle Power (PPI) as they had progressed very well with their proprietary Windfloat technology. Aker's Vassbotn commented that "…Our partnership is a fantastic story so far, but as a developer we have to be technology agnostic." Shell too was involved in the Windfloat technology helping PPI in the early stages and are currently collaborating with Stiesdal on the TetraSpar concept and with Hexicon on the twin-turbine substructure. Shell's Cotter emphasized "…Through EOLFI (a recent acquisition) we have a dedicated team of Floating wind development experts… also we try to back as many solutions – technology pathways – as we can; if you restrict yourself to one route through, you will inevitably hit roadblocks." Ultimately, Shell thinks there will be a smorgasbord of successful designs to choose from.
Key Markets
Regionally, Europe and Asia Pacific comprise the majority, 65%, of presently identified Floating wind units numbering over 1,440. Europe led by the United Kingdom, France and Spain has 37 floating projects with statuses under development, planned and possible. The US West coast makes up nearly 20% of identified projects with construction activities earmarked for the latter half of this decade.
All companies have ambitions in South Korea – Equinor announced July 2nd (the day after the event) an 800 MW project there, Aker is looking at a 500 MW project and Shell with Hexicon is developing a 250 MW project offshore South Korea. Projects are also coming in Scotland, with 10 new sites likely to be chosen for new wind farm developments. Norway has also recently announced the opening of two areas for offshore wind offering the possibility of 4,500 megawatts of capacity. Beyond 2030, Europe and Asia Pacific regions will be dominant in Floating wind, but over time Q FWE fully expects new markets like India and China will come into play in order to reach the 180 GW scenario of potential installed capacity in 2050 that Paul mentioned.
Government Policies and Framework
As Developers, we look for co-existence with fisheries and other stakeholders before anything else. Consenting processes differ greatly between countries and in some regions, you have to do the environmental assessment yourself, while in other markets like Scotland, all permitting, environmental and regulatory requirements are completed before you go in. However, consenting and transmission to support large scale projects is sometimes harder to achieve than for small scale projects. Emphasis was placed on having a very predictable route through permitting which is key – it doesn't have to be quick, just reliable.
Local Content and Infrastructure
As Developers, we produce energy together with the supply chain. As an industry we face global challenges with solutions at the local level. The real opportunity for the industry is to make sure that we take time 'rethinking' the most proactive way of delivering and the best localization of our supply chain. While local content requirements differ between countries, localized fabrication is one key to successful developments. As an example, the US East coast is trying to build a local supply chain for components such as traditional foundations, while the large diameter cans used for monopile foundations are manufactured internationally due to non-existent local sources.
Transitioning the Supply Chain
Oil & Gas experience helps. Floating wind is a ripe area to utilize the existing offshore supply chain from deepwater which has extensive experience in large capital projects, mooring technology and installation methodologies. While many areas lack a mature supply chain, a broad range of supply chain capability does exist. How do Developers go about shaping the local supply chain? It is all about identifying what is locally available and readily useful without increasing the price. The 'golden egg' is to come up with a concept that can be built in existing local facilities requiring minimal upgrades. Moreover, you can de-risk your project by leveraging existing skills within the local population, meaningfully reducing your transportation and installation costs while increasing your predictability of project delivery.
There is a balance between being cost-effective and giving something back to society. As a new industry coming to your doorstep, Floating wind holds the potential to be the largest job creator within renewables.
Paul's forecast of ~180GW of installed capacity by 2050 and more than ~13,000 Floating Turbine Units would make Floating wind the dominating factor in offshore wind. His projections are partially based on the recently introduced Q Vision 'SCO' module, specifically designed to help the supply chain identify the opportunities that exist in the various markets for their products and services.
A demo version of the Q Vision Supply Chain Opportunities module can be viewed on the Q FWE website.