Offshore Wind Turbine Supply Chain Opportunities, Contract Awards & Open Demand

Easy access to the world's most accurate data on the Floating Offshore Wind market Supply Chain Opportunities, contract sequencing and open awards. The Q Vision subscription service is a dynamic platform in Microsoft Power BI enabling our clients efficient mining of our comprehensive project data into dynamic charting which provides quick actionable insights supported with full project details. These analytical tools are essential for forecasting and very useful for getting a quick overview of the potential future market for Turbines, Subsctructures, Moorings, Subsea Power Cables, Installation services and ultimately O&M activities Includes backing data in MS Excel.
For information on Quest's Q Vision data products, please click here. For more information on all Quest products and services contact Andrew Chadderdon, +1 (281) 725-7664, or Andrew.Chadderdon@questfwe.com
Now with Search Recent Project Updates functionality >>
View full Data Coverage Fields >>
The Supply Chain Opportunities module contains project details on Floating wind globally.
Analysis is focused on Contract Award Opportunities by Award Date covering the known universe of Under Development, Planned and Possible projects.
Market Overview of the Forecast Contracts Awards Opportunities now and over the next 3-to-4-years.
Project details by Supply Chain Segment for Turbines, Substructures, Subsea Power Cables, Mooring Systems Hardware, and related Installation activities.
Contains details of pertinent Volumes and contract awards in CapEx by major segment.

Including kilometers of Export and Array Cables, Meters of Mooring line, Number of Mooring lines, Number of Anchors, Total Tons of Steel or Concrete, etc.
Subscriber Tools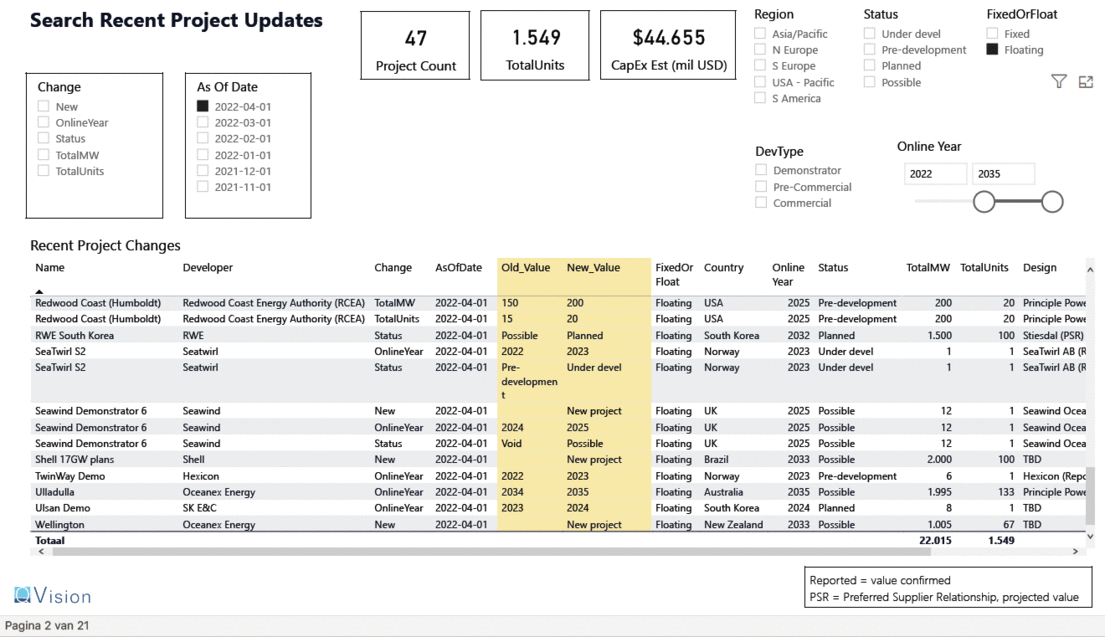 Follow us on LinkedIn to track the latest changes, additions and features