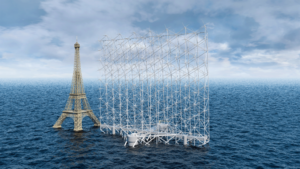 (OW) Wind Catching Systems AS (WCS), the Norwegian developer of a floating wind system using multiple turbines, has completed a Series A investment round of up to USD 10 million led by the venture capital arm of an undisclosed global industrial company.
The proceeds from the Series A financing will be used to fund the development and commercialization of the WCS technology, North Energy, the company that established WCS in partnership with Ferd, said.
WCS has also signed a strategic partnership agreement with the aforementioned global industrial company for collaboration, covering technology development, project execution, and policy advancement.
The transaction values WCS at USD 30 million pre-money, North Energy said.
Last July, WCS entered into cooperation with Aibel as the main contractor to commercialise the new floating wind system. The Institute for Energy Technology is also involved in the project.
The Wind Catching technology is said to have a design life of 50 years and is projected to cut acreage use by more than 80 per cent.
The technology is also said to significantly increase efficiency in comparison to conventional floating offshore wind farms, and is expected to cost substantially less to maintain than today's floating offshore wind solutions.