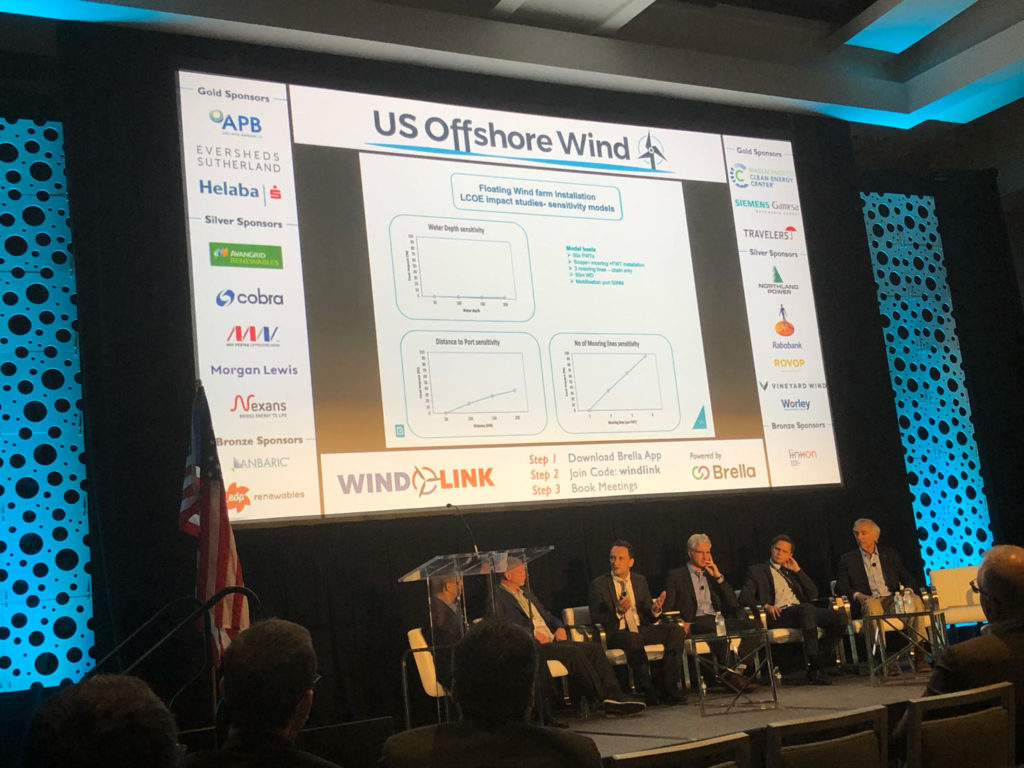 An almost overwhelming turnout and focussed presentations carried the feeling US offshore wind is accelerating. A line-up of politicians, hi-key stakeholders, developers and technology experts drew a very complete picture of developments.
Some of the panel discussions signified competition is growing both on the east coast and west.
Some of the main takeaways were:
Aker Solutions presented between the lines the offerings of the offshore supply chain.
Dynamical cables have been applied for floaters over decades.
They have a dynamic cable manufacturing plant in the US (Mobile AL)
Some of the future solutions they can offer include Hi-Voltage subsea trafos, and connectors, complete seabed installed substations even.
Equinor is currently studying on foundations for Empire Wind, including floating.
Cost reductions from Hywind Scotland to Hywind Tampen projected at 40-50%
They are seeing the same development of cost reduction in float as in bottom fixed.
Maine Aqua Ventus I
Confidence is there that the project is back on track, construct starts 2021, online Q4 2022.
Q FWE upgrades the project to 'Planned' based on the information received.
It proves that a new Governor can make all the difference: Maine will see a licensing round soon.
WindFloat
Engie sees LCoE for WindFloat Atlantic of €100-125 possible.
They are studying on CapEx and OpEX variations.
PPI Windfloat pre-commercial Public Hearings are completed.
Bourbon
Bourbon presented an update of their study on economies of scale in a 50 unit installation project.
Noteworthy: they advise Installation to be integrated from the FEED stage.
One set of moorings in 2 days, wind turbine towing & hook-up 3 days. So 5 days per unit. Cost increase by #mooring lines is linear. Cost do not dramatically increase with WD, but do increase with distance from shore.
The north east coast
Coast-side and port infrastructure may prove the main challenge in the east coast.
Onshore grid (capacity) is an issue
Larger capacity on unit level only makes sense if it is faster and lower in cost (read this once again).
Vineyard
Contract awards on cables and installation expected soon.
Overall
Building a work force required for offshore wind might be a challenge in a low unemployment environment.
A look at bottom-Fixed
The north east coast is gearing up, so much is clear. In our Q Vision suite we were already tracing some east coast projects for clients, just to see the relationship of fixed with European floating projects' cost.
Weighing all aspects we consider to expand our Q Vision model to include bottom fixed projects that are projected in the same 'cost range' as float, or better said, to identify those bottom-fixed projects that might well be better off using float.
Elsewhere in the world:
France announced this week they are adding a third 250MW to the next round, now totalling 750MW of floating wind. Encouraging news.