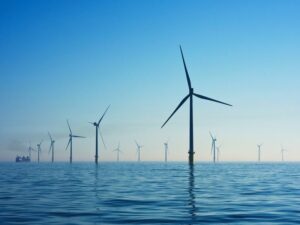 Engineering firm Saipem and Siemens Energy will jointly develop a 500MW high-voltage alternating current (HVAC) floating electrical substation to be used in offshore wind farms.
According to Saipem, the floating offshore substation concept will be based on a proven semisubmersible substructure and is designed for stability in extreme environments.
The technology is fully scalable depending on requirements and can be adapted to fabrication and assembly infrastructures worldwide.
Floating offshore substations installed in deep water offer several advantages such as a lighter substructure, an easier and asset-light installation in challenging conditions as well as lower decommissioning costs.
Agustin Tenorio, vice president of transmission systems at Siemens Energy, said: "The new joint solution will significantly optimize critical technical parameters, such as weight, electrical efficiency, and asset longevity, thus lowering the production costs and enabling an unprecedented number of countries to benefit from large-scale offshore wind generation."
Fabrizio Botta, chief commercial officer of Saipem, commented: "Our ambition is to take advantage of Saipem and Siemens Energy unique expertise, to jointly develop a cutting-edge floating design solution for offshore substations. The new concept will be an enabler to enhance offshore wind developments in deeper waters by lowering the overall infrastructure investment."
Substations are the link between power generation, transmission, and distribution. Power from the individual turbines is transmitted to the offshore substation and the cables from the turbines connect to the offshore substation.
Substations accommodate the high-voltage (HV) and medium-voltage (MV) electrical components required for transmitting the power generated from the turbines. Export cables will transmit the power from the substation to shore where it will link with the electrical grid through another substation onshore.