Quest Offshore today launches its comprehensive coverage of the global Offshore Wind market and introduces our Fixed Offshore Turbine database.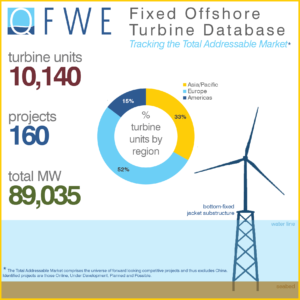 A Tremendous Opportunity Awaits
Quest sees enormous market potential starting to unfold, specifically increased areas of planned MW density across Asia, Europe and the USA. These are three distinct markets that will ultimately require an expanded global supply chain while near-term projects will need to leverage the existing pool of experience and equipment. Our analysis by supply chain segment shows a Total Addressable Market (TAM) of 10,140 Bottom-Fixed offshore turbine units totaling 89 GW across 160 projects. An analysis of near-to-medium term projects under development, reveals 4,238 Bottom-Fixed substructures representing a total capacity of more than 36 GW.
On a regional level, Europe sees more than half of the planned MW capacity to 2030 with Asia Pacific seeing rapid growth with over 3,300 turbine units identified and a 40% share of global projects led by Taiwan, Vietnam and South Korea. The Americas led by the Northeastern U.S. is expected to deliver over 13 GW of capacity by 2028 from 1,422 turbine units.
The Fixed Offshore Turbine Database, Focus on the Future
Q FWE's Fixed Offshore Turbine Database covers the Total Addressable Market for key regional markets for projects online and into the future taking 2018 as a starting point. Our focus is on competitive opportunities for those projects Under Development, Planned and Possible. Detailed specs include developer, status, region and country, online year, turbine manufacturer, plus key project milestones such as first contract awarded and main contracts.

For this entry-level product, we have selected 38 key attributes per project (from the 120-total available) delivered as an Excel spreadsheet as a one-time purchase or via an annual subscription delivered monthly. Note, we currently exclude markets like China which is absent of a truly competitive supply chain. We focus on the future, where the opportunities are!
Concurrent with this announcement, our Q Vision suite of analytical tools has been expanded to include Bottom-Fixed offshore wind installations to drive our ability to provide robust predictive analytics on key market segments such as manufacturing, equipment and specialty materials. We firmly believe our increased focus in this area will benefit the global offshore wind industry on both sides of the table.