The Global Floating Wind Energy Market & Forecast 2019 – 2031 Report opens with an Economic Perspective of the Industry, then delves into current/planned/possible projects, along with the Total Addressable Market opportunities for each major link on the Supply Chain. The Outlook to 2031 sees upwards of 14 GW installed and extensive detail is provided for all regions. An analysis of the Supply Chain including market shares covers Developers, Turbine Manufacturers, Designers, the Mooring segments, Cabling and Installation activities.
This report is will give the reader a complete overview of the Global Floating Wind Energy market, from projects in place Worldwide with CapEx estimates on all segments of the Supply Chain, along with opportunities within each segment of the Supply Chain. The reader gets far more than your typical "top-down" forecast as we employ an in-depth detailed methodology (Deep Data) which allows the reader to assess the impact of future growth by analyzing the benchmarks set forth in this report collectively, as well as across the Supply Chain segments.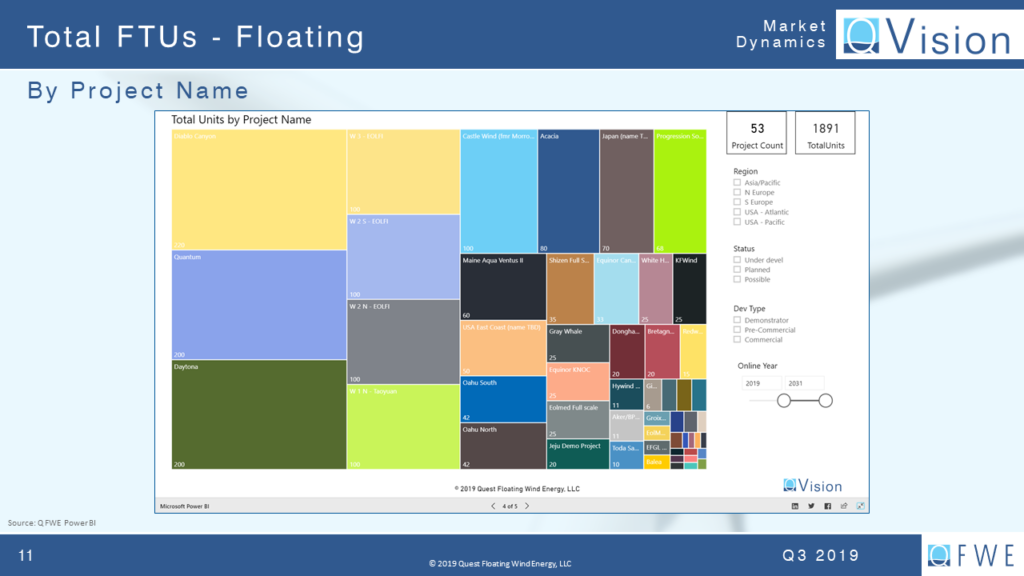 This "Deep Data" is projected in over 150 figures (graphs, charts, data tables, maps and infographics) and delivered in a 140-page Acrobat PDF report. Quest Floating Wind Energy is part of the Quest Offshore family, which since 1999 has been providing data to major energy producers, offshore contractors and suppliers, as well as 100+ global financial firms.