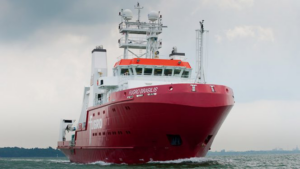 Fugro has won a contract with Renexia to carry out surveys at the 2.8 GW Med Wind project, the first floating offshore wind project in the Mediterranean.
Fugro will perform marine geophysical and environmental surveys to acquire comprehensive geo-data at the proposed wind farm location in water depths of 300 to 900 meters and along the two proposed export cable corridors.
Once the necessary geo-data is acquired, the results of the analysis will be used to advise on geohazard risk mitigation and identify a safe route for the installation of the two export cables.
These results will also feed into the final integrated environmental impact assessment (EIA) application to Italy's Ministry of Energy Transition.
"We are really proud to support Renexia in this challenging floating offshore wind project, which will help our country's transition to decarbonisation and a sustainable future of green energy and power diversification," said Rodolfo D'Addario, country manager for Fugro in Italy.
The Med Wind project will feature 190 turbines covering an area of 850 km2, located 60 kilometers off the Italian coast
Construction of the 2.8 GW floating offshore wind project is expected to start by 2025, with commissioning planned on 1 January 2026.
To remind, the first offshore wind farm built in Italy, as well as the first such project in the Mediterranean, was completed, commissioned and inaugurated earlier this year.
The 30 MW Beleolico offshore wind farm, which features ten MySE3.0-135 turbines delivered by MingYang Smart Energy, was also developed by Renexia.