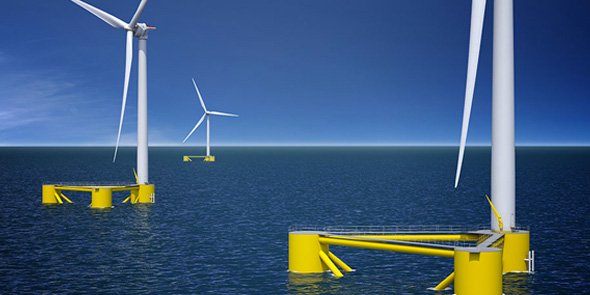 Last month EOLFI announced the increase of the turbine capacity in their Groix-Bele-Ile project to 9.5MW, thereby reducing the number of floaters required from 4 to 3 units. Our Q Vision analysis shows an impressive reduction in CapEx that possibly increases with the complete design review of the floater that is currently taking place.
This week news focused on another French pre-commerical project – the Golfe du Lion (EFGL). Developers Engie and EDPR have chosen the 10MW MHI Vestas model to be put on the 3rd generation design of the Windfloat from Principle Power. The result is that 3 units can do the work instead of 4 and at the same time project capacity increases from 24 to 30MW. This change boosts project economics, with a Capex reduction of over 20% and a CapEx per unit in line with that of Groix, some €35M. The LCoE is even more dramatically impacted and shows that impressive cost reduction are being achieved, even in relatively small pre-commercial projects. Our subscribers can unlock these figures in the Q Vision CapEx module.
In related news, EDPR and Engie will merge by year end, while EOLFI was acquired by Shell New Energy providing the company a third floater in their portfolio: Hexicon in South Korea, TetraSpar in Norway and Seareed in France.