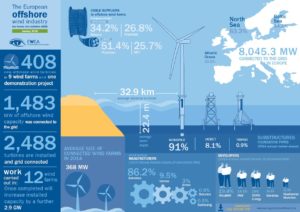 ---
Floating wind will be cheaper than bottom-fixed: wait and see
OPINION | Floating wind may be behind fixed-bottom offshore's cost curve now, but that will change, writes Trond Landbo
After 25 years of offshore wind the cost is about to become competitive with other mainstream energy sources, and commercially viable without subsidies. Over the last five years the cost of bottom-fixed wind farms has been cut to less than half through the development of new technology and streamlined industrialisation. Large-scale floating wind has only been around for less than 10 years and still there are very
few wind turbines floating around. It cannot take advantage of going gradually from zero water depth and hence the hurdle in many ways is greater than for bottom-fixed. Offshore floating wind is at a very early stage of development and all projects are pilots or non-commercial demonstration projects.
---
Offshore wind farms have powerful advantage over land-based turbines, study finds
Floating wind turbines at sea could create up to three times as much electricity as turbines on land, increasing the energy potential for a technology that has yet to be proven at scale, a new study suggests.
The new study comes at a time of reckoning for terrestrial wind power. Before the current wind power boom, researchers estimated that wind turbines on land could provide as much as 7 watts of power per square meter. But recent modeling shows that land turbines probably will provide only 1 watt per square meter when installed at scale. The problem is that turbines deplete the strength of winds downstream from
them, creating a phenomenon called "wind shadow" that has proven a bigger issue than predicted.
---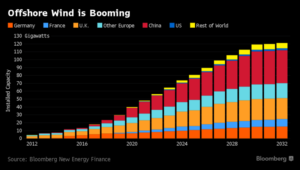 ---