Definitive Guide to Floating Wind Concepts

As Floating Wind projects proliferate around the world, each must be based on an engineering design or concept for the actual Floating structure itself. While it is assumed that as this industry matures, there will be some level of standardization around "common designs", there is little to foretell how many designs will be utilized to address differences such as water depth, site conditions, or region of the world.
As seen in the Offshore Oil & Gas Industry, there has been a wide array of Hull types, with various applications within each type. At the moment, Semisubmersible, SPAR and TLP designs seem to offer the most promise. However, the purpose of "Floating Wind Concepts" (FWC) is to catalog as many conceptual designs and engineered solutions as possible. Many of the concepts within FWC may be little more than a basic idea put to paper, while others have actually been utilized. FWC will allow an "apples to apples" comparison between different concepts, while also providing the basics of Semisubmersibles, SPARs and TLPs, pointing out the pluses and minuses of these basic hull types.
Floating Wind Concepts will be published in 2Q/2020.
Should your concept be included in Floating Wind Concepts?
While Quest FWE reserves the right to include or reject any Concept submitted, our intent is to include all Concepts that meet the Guidelines below. There is absolutely no cost to have a Concept included within Floating Wind Concepts. However, companies who wish to promote their services within, please review the Floating Wind Concepts Prospectus.
Guidelines
Concept is designed to support a commercial wind turbine
Concept is designed with a hull which "floats", rather than being affixed directly to the seabed.
Concept is being marketed as a commercial solution, or with further development it is planned to be marketed as a commercial solution.
Concept should be for an entire unit, not just one major component (such as topsides, but no hull)
Those submitting Concepts may submit multiple entries, but separate entries should not be essentially identical, with only minor differences.
Please contact Erik Rijkers with any questions or if you need further information.
Marketing & Advertising opportunities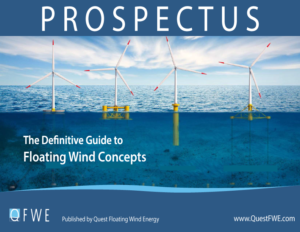 Floating Wind Concepts will be published as an e-book and will include online access to each system for an entire year. There is no charge to have your Concept included; however companies wishing to promote their services to a high value audience are invited to advertise within this exciting new product.
All advertisers within Floating Wind Concepts will also receive a complimentary ad on the Floating Concept gallery on the website for one year. Click here to view the current gallery.
Quest Floating Wind Energy now reaches a dedicated global subscriber base of over 20,000. Floating Wind Concepts offers extraordinary exposure for a very modest investment. Click here to download the Prospectus and view the opportunities available.
For more information please email John Chadderdon or call +1 (832) 862-3390.
---
Submit Your Design
To submit a concept to be included in The Definitive Guide to Floating Wind Energy Concepts E-Book, please submit the following details using the form below and attaching the following fields in a word document or download excel document:
---
Requested Specifications
Design Name:Designer:
Design Country:
TRL (TRL Explained… Click Here):
Current Projects (Projects currently being planned/developed with your floater):
Possible Projects (Possible future projects, not yet fixed in time):
Hull Shape (barge, semisub, spar, etc.):
Steel or Concrete (Main material):
Min. Waterdepth (Operational):
Floater Columns:
Turbine Capacity (MW – Exact/Range):
Steel Weight (Metric Tons – Exact/Range):
Concrete Weight (Metric Tons – Exact/Range):
Ballast Weight (Metric Tons):
Floater Length (m – meters):
Floater Width (m – meters):
Floater Height (Excl. tower, just substructure):
Draft (Operational draft):
Mooring System (as in turret, catenary, taut):
Typical No. Lines:
Typical Anchor Type (suction, piles, drag):
More Details (Describe floater hull characteristics if required):
Do you have a photo or drawing with main support beams, if so please attach below.